Mentoring the Next Generation of Aerospace Engineers
Mentoring the Next Generation of Aerospace Engineers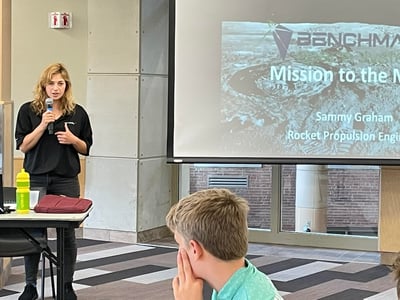 With the industry expanding at the speed of light and new challenges emerging, we're setting our sights on the next generation of engineers.
Whether it's tackling the complex issues of space debris and collision avoidance, in-space manufacturing efficiencies, or refueling on orbit, we need the best and the brightest minds on Team Space.
Sammy Graham, Benchmark's Rocket Propulsion Engineer, conducted a "Mission to the Moon" workshop as part for the 4-H Teen Science Café. The Cafés are "interactive programs that promote exploration, curiosity and life-long learning about current and cutting-edge ideas in science and technology."
Sammy also mentors students through a local high school STEM academy internship program, and has helped these students set forth on careers in engineering.
---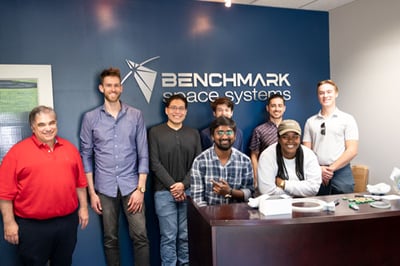 At our California office, a group of students from San Jose State University toured the facility, hosted by our Director of Engineering Bradley Hoover. The students were able to link classroom learning to real world applications by interacting with hardware, fluid systems, and test facilities used to qualify space hardware for upcoming small satellite missions.
---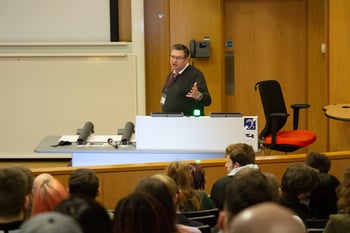 Mark Arthur, Director of European Operations, spoke at the UK Students for the Exploration and Development of Space Conference earlier this year. In his talk "Why take tanks?", he explored the need to plan for mission propulsion and the importance of having end-of-life de-orbit capability.
---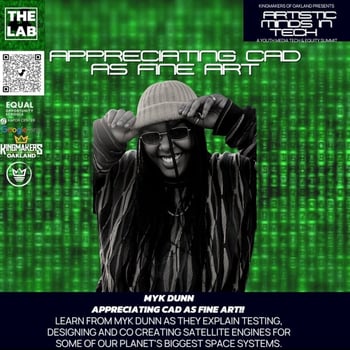 Test Engineer, Mykaela Dunn, presented "Appreciating CAD as Fine Art" at the Youth Media Tech & Equity Summit in Oakland, CA. Mykaela demonstrated how many aesthetic details of engine design are subjective ideas backed by physics and math, and how CAD software can translate these ideas into reality.
Mykaela also serves as a Peer Mentor for the Patti Grace Smith Fellowship and the Brooke Owens Fellowship, providing valuable knowledge, skill and connection transfer between entry-level engineers and those with industry experience.
---
Director of Advanced Propellants, Dr. Michael Martin provided an overview of his career working at four NASA centers, to the students in the Texas A&M branch of the American Institute for Aeronautics and Astronautics. He presented current Benchmark products and offered engineering career advice.
---
Our team is committed to strengthening our industry by engaging new aerospace engineers to develop the next generation of technologies and solutions for our expanding presence in space.