Press Release: Benchmark Makes Milestone Move to New HQ with World-Class Tech and Manufacturing Capabilities
Press Release
Benchmark Makes Milestone Move to New HQ with World-Class Tech and Manufacturing Capabilities
Closes $33 Million Series B Funding Round and upgrades test and production lines to meet thruster demand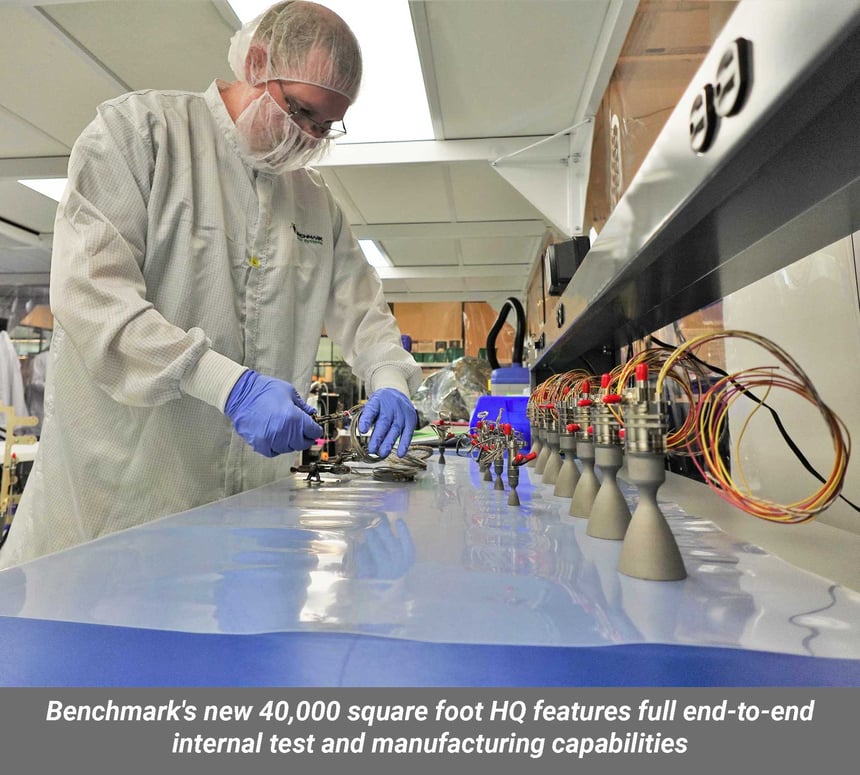 Burlington, Vermont – August 8, 2023 – Dedicated to deliver on growing chemical and electric thruster production order commitments to propulsion customers and missions worldwide, Benchmark Space Systems today announced it has raised $33 million in Series B funding and moved its headquarters to facilities featuring state-of-the-art testing systems and four times the manufacturing capacity.

The funding round will enable the company to intensify new innovations and accelerate its strategic transition from research and development to production to meet growing demand for its non-toxic propulsion systems.

Benchmark's new HQ, just around the corner from its previous home within Burlington's sprawling tech corridor, enables the company to scale manufacturing and cut production times with unprecedented in-house capabilities that include quality, performance and testing for new mission profiles.

The 40,000 square foot Vermont-based facility features full end-to-end delivery capability from engineering through test and integration, including hot fire chambers, vibration tables, thermal vacuum chambers and lean production flow lines housed in ISO 7 clean-room environments. The advanced systems and expanded space will enable enhanced onsite team collaboration, predictable quality and visibility across all phases of program delivery for Benchmark's complete product line of 1 milli-newton to 500 newton chemical and electric thrusters and propulsion systems. This new facility enables a key objective for Benchmark to vertically integrate quality control, production, test and integration under one roof as a key enabler to scaling its delivery quality and on-time performance for the company's mission partners.

"Many of our mission partners are scaling to build dozens or hundreds of satellites per year," said Ryan McDevitt, Benchmark's CEO. "With this move we will be able to leverage multiple dedicated assembly lines and develop a mature supply chain to consistently produce quality systems at scale, including our Xantus metal plasma thruster and Halcyon Avant and Starling Ardent chemical propulsion systems."

The company is on the verge of delivering its first key shipments of all three product lines from the new facility to government and commercial customers this quarter. Benchmark's operations leadership team estimates production will reach up to one-thousand thrusters per year on the new manufacturing lines.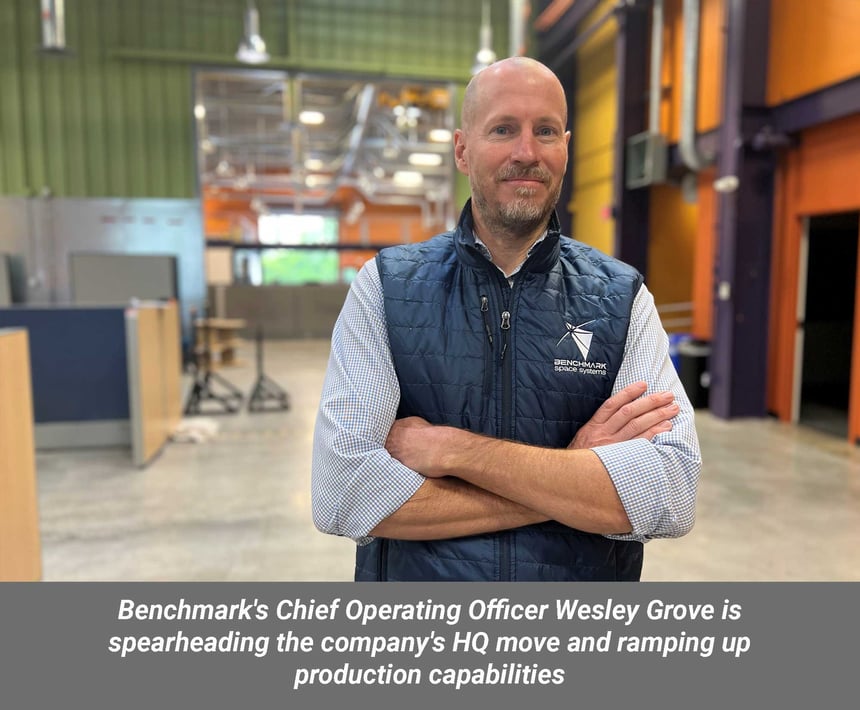 "Benchmark has become a trusted and proven propulsion partner and innovator across the space industry, and our new headquarters operation, with in-house production and testing capabilities, enables us to build on that trust and deliver on our commitment to meet growing demand," explained Wesley Grove, Benchmark's Chief Operations Officer. "We've eliminated the need to ship thrusters and teams to specialized test and manufacturing facilities throughout the country for weeks at a time. As a result, we have greatly simplified and streamlined our operating and production model, which allows us to boost our agility and ability to support customers with even faster speeds to market for tailored and rapid deployment thrusters and propulsion systems."
"Benchmark has transitioned to a new level of production and space mobility capabilities that allows our teams to serve more of the propulsion market with confidence that our standardized, specialized, and new thruster lines will be ready to go when our customers need them," said Chris Carella, Chief Commercial Officer for Benchmark. "With a pareto of market demand, and this operational transition in-phase, we can now inventory common subsystems and maintain our lead time advantage, as well as expand our mission planning services with hardware-in-loop and digital twin simulations. The result is our consistent ability to ensure our propulsion systems deliver the quality and performance necessary for highly critical and tailored operations in space."

Delivering on lead times at a consistent and high quality level is critical to support satellite operator manufacturing goals. The company estimates the new facility will improve lead times more than 30%, as it dramatically cuts testing and production timeframes with new end-to-end internal test and manufacturing capabilities.

The company is laser focused on providing non-toxic chemical, electric and hybrid propulsion systems capable of enabling in-space mobility and the emerging space economy. Benchmark is currently fulfilling contracts for dozens of its new Xantus metal plasma thrusters (MPTs), with some on the verge of playing a key role in upcoming in-space servicing, assembly, and manufacturing (ISAM) satellite docking demonstration missions.

Benchmark combines the electric metal plasma thrusters with its high-test peroxide (HTP)-powered chemical propulsion systems to provide satellite and mission operators with go-fast and precision mobility capabilities in a non-toxic hybrid solution capable of enabling everything from station keeping and pointing of mesh networks to collision avoidance maneuvers. The company is producing hundreds of its 2N Lynx bi-propellant (HTP + fuel) thrusters this year to meet increasing demand for low Earth orbit (LEO) and cislunar missions.

Benchmark continues to innovate and collaborate in the assessment and thoughtful development of new propellants to meet both technical and geopolitical requirements, especially in support of government operations. The accessibility of HTP and the team's proven ability to rapidly integrate and deploy new high-thrust, long burn duration engines are playing key roles in enabling the emerging space economy.

For media inquiries, contact:
Paul Sims
For Benchmark Space Systems
678-576-6126
paul@simscomm.com

About Benchmark Space Systems
Benchmark Space Systems is a full life cycle in-space mobility provider, delivering products and partnerships from mission planning through decommission. Founded in 2017 to develop green propulsion technologies and flexible product configurations to market, the team's rapid growth and focus on the development and sustainability of a democratized space domain has resulted in a product lineup of turn-key propulsion systems for 3U cubesat through ESPA and OTV class spacecraft in LEO, GEO, and beyond. Benchmark's patented and proprietary innovations focus on eliminating customer pain-points and increasing asset value for unparalleled ROI. To explore how Benchmark can help improve your mission, from rapid orbit insertion to advanced RPO (Rendezvous and Proximity Operations), visit:

Website: www.BenchmarkSpaceSystems.com
LinkedIn: https://www.linkedin.com/company/benchmark-space-systems/