Press Release: Benchmark Space Systems Wins Second Air Force Research Lab Contract to Test New Thrusters on Non-Toxic ASCENT Fuel
Press Release
Benchmark Space Systems Wins Second Air Force Research Lab Contract
to Test New Thrusters on Non-Toxic ASCENT Fuel
Benchmark unveils new advanced propellants group, focuses on ASCENT as viable
alternative to hydrazine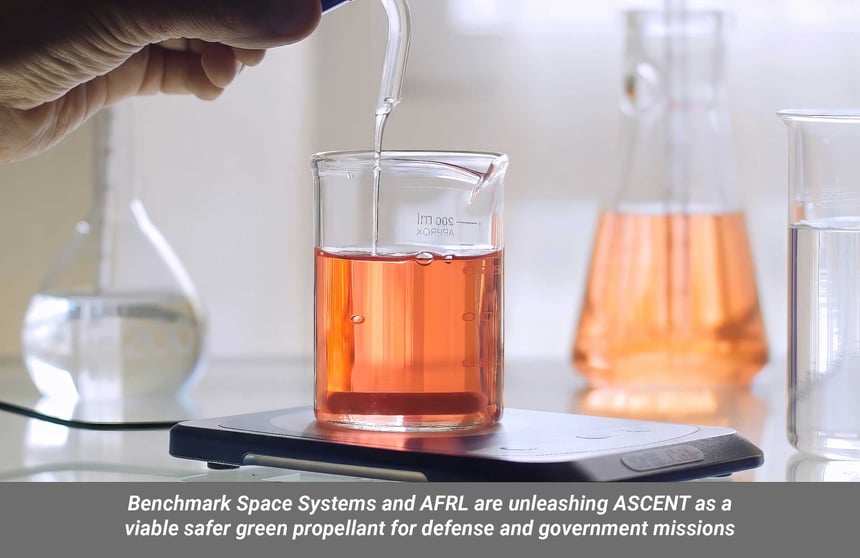 Burlington, Vermont – August 29, 2023 – Tapped to help U.S. defense agencies deploy safer propellant alternatives to hydrazine, Benchmark Space Systems today announced a two-year, $2.81 million AFRL SPRINT (Space Propulsion Research and Innovation for Neutralizing Satellite Threats) award to further develop and test flight-optimized thrusters running on ASCENT (Advanced Spacecraft Energetic Non-Toxic) fuel.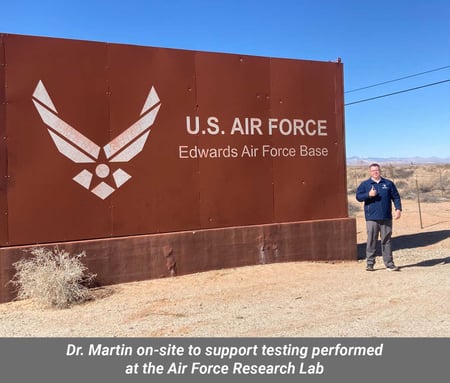 It is Benchmark's second SPRINT award in two years, after the company successfully demonstrated a prototype thruster burning the Air Force Research Laboratory (AFRL) developed Advanced Space Craft Energetic Non-Toxic (ASCENT) monopropellant without the use of a catalyst bed. The milestone trials opened the door to ASCENT as an affordable, viable alternative for a broad range of on-orbit mobility and tactical missions in space.
As part of this new AFRL-funded program, Benchmark is building a flight-like 22 Newton thruster to perform advanced ASCENT hot-fire demonstrations and will also deliver a preliminary design of a larger 100 Newton thruster assembly in 2025 with the goal of meeting overall demand for scaled ASCENT-fueled spacecraft in the 10-500 Newton range.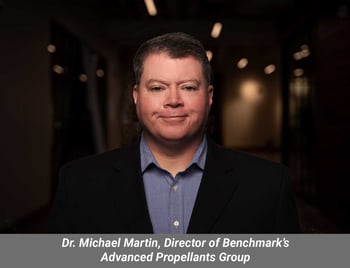 Benchmark also unveiled its new Advanced Propellants Group, led by Director Michael Martin, PhD, who has spearheaded much of the ASCENT thruster prototype development and testing, both at Benchmark's technology center in Pleasanton, California and test cells at Texas A&M University's Turbomachinery Laboratory in College Station, Texas. The new team will build on Benchmark's overall mission to explore and test a broad range of greener propellants for its growing suite of proven non-toxic chemical, electric and hybrid propulsion systems.

Benchmark's collaborative work with AFRL and the U.S. Government is a model example of how the company thoroughly vets the safety and optimizes performance of propellant for use in space, such as the flight-proven high-test peroxide (HTP) bi-propellant running its Halcyon product line. Benchmark propellant innovations also include the inert non-toxic powder fueling its Starling systems, and a variety of readily and domestically sourced metals to feed its Electric Propulsion offerings. Benchmark's propellants team will continue to screen and solve inherent propellant challenges, including hurdles posed by LMP-103, nitrous oxide, water, and other fledgling propellants that have shown promise for specific mission types.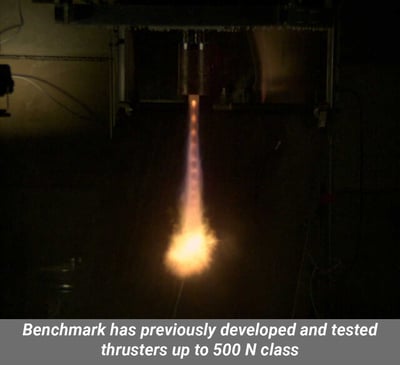 "Benchmark has developed a novel ASCENT thruster technology that provides the high-thrust scalability to make ASCENT a viable propellant across the full necessary performance range of DoD's current and future dynamic space operations," explained Jake Teufert, Benchmark Space Systems Chief Technology Officer. "This next two-and-a-half-years of ASCENT thruster prototype development and testing under the SPRINT program will ultimately enable the refinement and scale of storable monopropellant systems and operations to support immediate off-the-shelf availability for rapid deployment defense missions."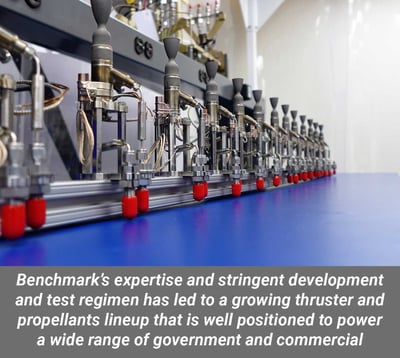 "Our expertise in non-toxic propulsion systems and testing means Benchmark is well positioned to provide thrust to a wide range of government and commercial spacecraft on low Earth orbit, lunar, and cislunar missions," said Michael Martin, PhD and Director of Benchmark's Advanced Propellants Group. "We are non-toxic propulsion professionals who will open the door even wider for ASCENT usage, as we also explore bringing in other underutilized and promising green chemical, electric and hybrid technologies to power the space economy."

Related Media:
For media inquiries, contact:
Paul Sims
For Benchmark Space Systems
678-576-6126
paul@simscomm.com

About Benchmark Space Systems
Benchmark Space Systems is a full life cycle in-space mobility provider, delivering products and partnerships from mission planning through decommission. Founded in 2017 to develop green propulsion technologies and flexible product configurations to market, the team's rapid growth and focus on the development and sustainability of a democratized space domain has resulted in a product lineup of turn-key propulsion systems for 3U cubesat through ESPA and OTV class spacecraft in LEO, GEO, and beyond. Benchmark's patented and proprietary innovations focus on eliminating customer pain-points and increasing asset value for unparalleled ROI. To explore how Benchmark can help improve your mission, from rapid orbit insertion to advanced RPO (Rendezvous and Proximity Operations), visit:
Website: www.BenchmarkSpaceSystems.com
LinkedIn: https://www.linkedin.com/company/benchmark-space-systems/

About AFRL
The Air Force Research Laboratory, or AFRL, is the primary scientific research and development center for the Department of the Air Force. AFRL plays an integral role in leading the discovery, development and integration of affordable warfighting technologies for our air, space and cyberspace force. With a workforce of more than 11,500 across nine technology areas and 40 other operations across the globe, AFRL provides a diverse portfolio of science and technology ranging from fundamental to advanced research and technology development. For more information, visit:
Website: www.afresearchlab.com
LinkedIn: https://www.linkedin.com/company/air-force-research-laboratory/