Satellite Evolution Global Magazine Q&A with Chris Carella
Satellite Evolution Global Magazine Q&A with Chris Carella
Satellite Evolution Global Magazine sat down with our EVP of Business Development & Strategy, Chris Carella, to get the scoop on Benchmark for the June 2022 edition of their global magazine. Visit Satellite Evolution Group to read the original article on pg 14.

Benchmark Space Systems makes space more accessible...
Benchmark Space Systems offers scalable, launch vehicle agnostic propulsion products and services for a wide range of spacecraft—from 3U CubeSats through ESPA-class (3-500kg) satellites, lunar landers, spent launcher stages, and orbital transfer vehicles (OTVs).
The company's Halcyon high-test peroxide (HTP)-based propulsion system has successfully performed mission critical manoeuvres aboard government and commercial missions on three satellites, and its Halcyon Avant green bipropellant thrusters will power Spaceflight's Sherpa-LTC OTV. We spoke with Chris Carella, EVP of Business Development and Strategy, to get the lowdown on Benchmark's current and future trajectory.

Crispin Littlehales, Global Contributing Editor, Satellite Evolution Group

Question: When was Benchmark founded and how has the company evolved?

Chris Carella: One of our co-founders, Ryan McDevitt, worked on a smallscale propulsion system while getting his Ph.D. at the University of Vermont. That was prior to the existence of the emerging small satellite market in 2012. In 2014, Ryan started a company known as Greenscale
Technologies with one of his undergrad pals, Matt Shea. They were awarded a couple of Phase Zero grants to mature the concept on paper, but it wasn't until 2017 that there was
some market validation. Ryan and Matt decided to restructure the company as a C corporation and rename it Benchmark Space Systems.
The company closed a seed round of roughly US$2 million and earned its first US Air Force contract. This is where we went from paper design to building a prototype. We were focused on non-toxic propellants and developed a CubeSat warm gas thruster, our Starling product line, as
well as a high thrust propulsion product line with an HTP+alcohol-hypergolic thruster targeted for satellites 100kg and smaller. Just as the pandemic hit in 2020, Benchmark identified a complementary high-test peroxide (HTP) technology developer called Tesseract Space that was working on hydrogen peroxide technologies, both in a hypergolic thruster at the larger scale as well as a
catalytic combustion HTP thruster.
In August, Benchmark integrated Tesseract's intellectual property, assets, and staff under a permanent licensing partnership. Six months later, the first collaborative product using a thruster from Tesseract with the fluid handling and electronics from Benchmark was delivered to our first customer. The following year, two government and one commercial flight systems were launched into orbit aboard the SpaceX Transporter, and we earned our space heritage.
---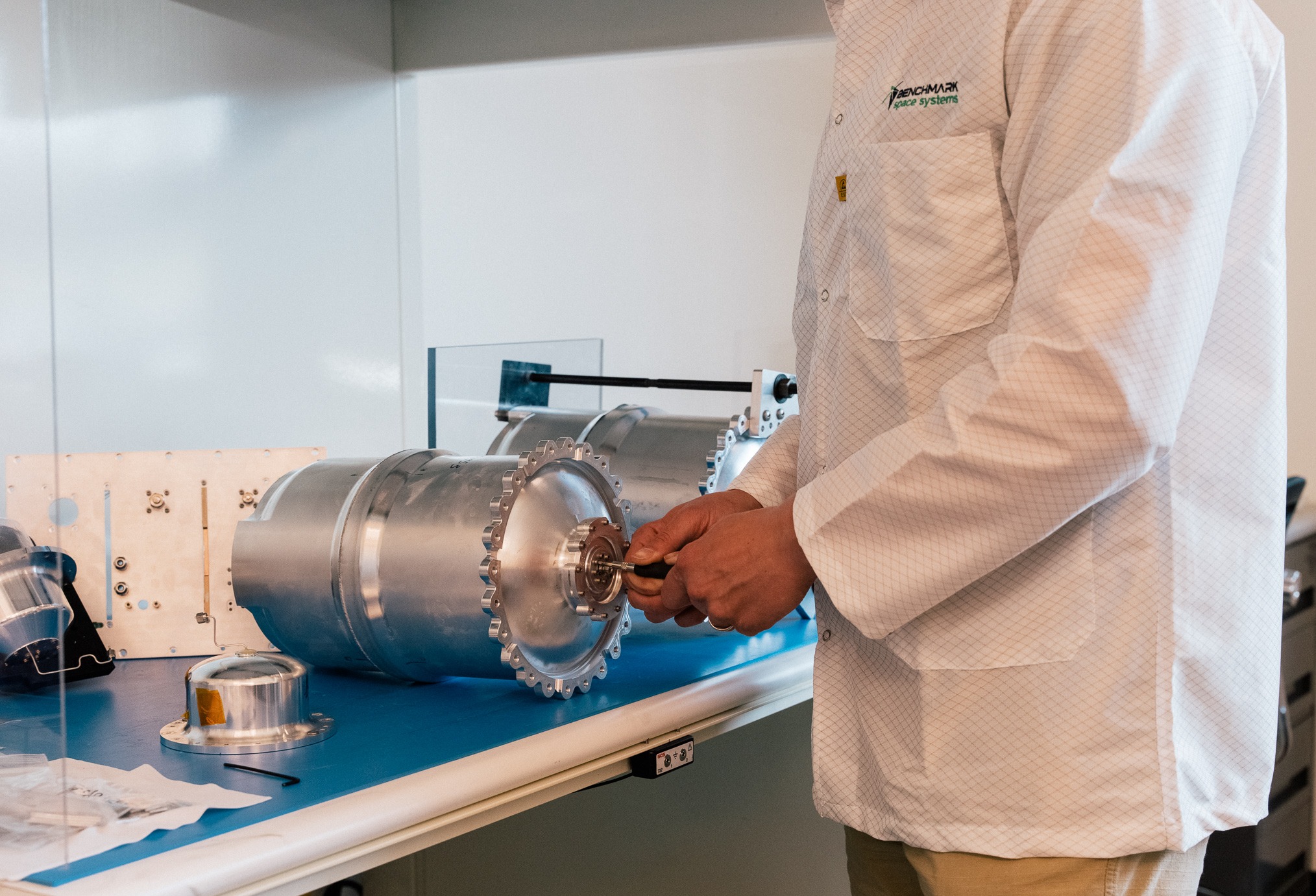 Question: Green propulsion systems are increasing in popularity as the industry embraces environmental stewardship and looks for sustainability solutions. What kind of requirements are you seeing in RFPs from government and commercial customers and how do your offerings stack up against their needs?

Chris Carella: Roughly 25 percent of the general propulsion requirements in North America specify non-toxic or green propellant. That percentage is notably higher with our European customer base. I attribute that motivation not only to the customer's desire to be a responsible steward within the emerging commercial space ecosystem but also to pure economics and the need to save money.
Green propellants can greatly reduce the costs and even eliminate launch site fueling operations. When compared to hydrazine, which is considered a high-risk endeavour that requires several weeks of integration and protective equipment, HTP offers an 80 percent cost reduction. Safety considerations come into play as well. Several popular launch vehicles have zero tolerance for
hydrazine in their payloads. There is also the In Space Resource Utilization (ISRU) perspective, and researchers are working on the manufacturing of HTP on-orbit using water that is either carried into space or gathered there.
Some of our government customers and primes are interested in adopting green propellant solutions, but the stock or inventory of hydrazine-based systems is well understood and trusted by the legacy suppliers. This gives traditional systems more staying power than they're worth. Side by side, Benchmark is delivering about 30 percent higher specific impulse and 70 percent better impulse density than hydrazine. What's more, our systems are compact and can offer critical weight savings. That said, government end-users and primes are very interested in a green monopropellant called ASCENT (AF-M315E) and Benchmark is developing technologies to support that propellant as well.
It is going to take attention and funding to get to a multimode system using an exotic green monopropellant because there are technology gaps and challenges on the electric propulsion side that various companies are addressing now. In Europe, both commercial and government entities have been focused on green propulsion solutions for some time. They have interest and experience with both green monopropellants and hightest peroxide. The green monopropellant commonly used in Europe is patented LMP-103S. For that reason, we are excited to announce our European expansion and the first contracts to build and deliver Benchmark solutions in the UK.
---
Question: Why is now the right time to expand into the UK market?

Chris Carella: Benchmark began scouting the possibilities back in 2019. The pandemic, along with traction in North America, slowed the European strategy a bit. We were fortunate to initiate a relationship with Mark Arthur during a tour of customer prospects and space hubs around the UK. He was gracious enough to provide contract support to Benchmark through 2020 and come on full time in 2021.
With a capable executive, Europe's interest in green propellants (including an emerging multi-entity HTP ecosystem), ESA's Space Traffic and Debris initiatives, and Benchmark's on-orbit heritage, it was clear that the stars aligned strategically for our UK expansion in 2022. Mark, who led engineering at Clyde Space a while back, is building a high-horsepower team, and we're excited to add their production and technology development capability.
Benchmark has an extremely attractive solution set for larger cubesats through OTV, and we have
recently penned a partnership to offer a best-in class electric propulsion cubesat product that will
give Mark and the team excellent coverage of target segments in Europe.
We just signed our first anchor UK customer in Space Forge and will be co-developing a reusable
generation of our propulsion engines to enable Space Forge's in-space manufacturing mission. We
plan to be delivering our first propulsion engines to Space Forge and other European customers from our UK manufacturing and testing facility Northwest of London by the end of the year.
---
Question: What makes Benchmark different from the other players in the highly competitive
propulsion market?

Chris Carella: Benchmark's systems are more efficient than the common or exotic green
monopropellants. We use a novel catalyst material, so we can avoid the precious metals and exotic catalyst beds that some of the other propellants require. We also have a moderate enough burn temperature to use common materials to build our combustion chambers and thrusters. As a result, we perform longer burn durations in the 10-minute range and beyond without any kind of thermal management solution. Some of our competitors' systems run at much higher temperatures or have phase changes that limit their burn duration.
Benchmark's system architecture is modular, which allows for rapid reconfiguration. We can scale
tanks and reconfigure the envelope shapes to suit a variety of bus sizes. There are companies who are waiting 12 to 24 months or more on production units and reorders. We can produce a new product or configuration in 9 to 12 months and can deliver production units and reorders in six months or less.
Our system is turnkey, which makes integration easy. We have also been maturing and demonstrating something that we call the Advanced In-space Mobility (AIM) framework, which is a smart layer that can incorporate GNC and other sensor or space domain awareness data as well as help articulate other systems such as reaction control wheels or torque rods. AIM acts like a brain for the satellite.
It will optimize whatever you need whether it is for speed, precision, power, or propellant preservation from point A to point B.
Finally, Benchmark is a full lifecycle partner from mission planning through operation and de-orbit. Whether we have the organic capability or team up with a supplier partner, we are there as a holistic mobility partner and work with customers throughout the extent of the mission. A partnership ethos is threaded across all functional areas are of our team, as this culture of support and accountability has been core to our identity, tracing back to the first iteration of our mission statement "Our mission is to improve yours."
---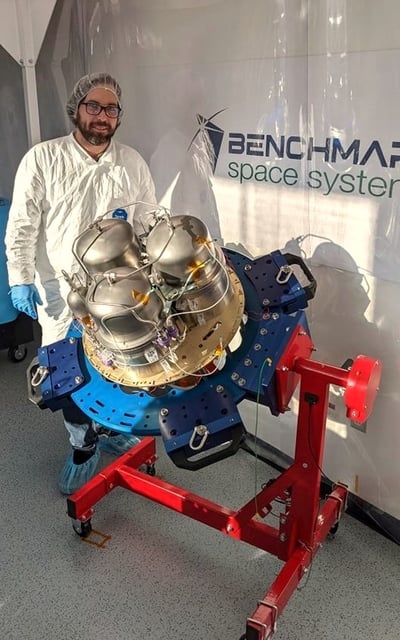 Question: How is Benchmark planning to enable space access, even as space gets more and more congested?

Chris Carella: Benchmark is making propulsion more accessible to less sophisticated or capitalized customers. While the legacy space actors can certainly create systems with more built-in intelligence, some of the NewSpace players don't have the in-house capabilities to optimize components
and subsystems and to really understand how
to operate them on their own.
By making smarter space mobility solutions
that can be quickly integrated and rapidly
reconfigured, we make space more accessible
for the entire customer base whether they have
advanced operations or small, challenging budgets.
---
Question: What are the near-term and longer-term space initiatives and missions that excite
you the most and how is Benchmark poised to support them?

Chris Carella: The exciting near-term missions are the ones supporting large constellations. We
have already booked production contracts for more than 100 engines, and just transitioning
from the prototype demonstration phase into production is extremely exciting. That's why we
started the company. As far as the future, I love to nerd out on the "Sci-Fi" concept of on-orbit
servicing, assembly, and manufacturing as well as off-planet economies.
We are working on building our rendezvous proximity operations and docking capabilities,
and have several products on our roadmap to support those initiatives and become OSAM
pioneers. We put a stake in the ground by having a refuellable engine on the first HTP refueling
station on-orbit and we have several partners in that ecosystem. Then there are large booster
stages or in-space operations along with cislunar operations that we're eyeing on the horizon.
We're also looking forward to adding sales horsepower to our team and upcoming technology demonstrations, which will allow us to focus on Benchmark's commercialization and partnerships in these advanced areas.
---
Question: What is next for Benchmark?

Chris Carella: First and foremost, Benchmark is keenly focused on execution with excellence, as
we continue to listen to the collective voice of our customers to anticipate evolving needs and
access to capital that will enable us to develop the right technology at the right time. We are
striving to stay just ahead of the curve of what the market needs.
That includes the AIM framework and unique hybrid solutions. Benchmark also plans to continue larger-scale system development to support cislunar logistics as well as multi-asset or second stage vehicles.