Join Us at the Small Sat Symposium Mountain View, CA, February 7-9, 2023
Join Us at the SmallSat Symposium
Meet members of the team in Mountain View, CA, February 7-9, 2023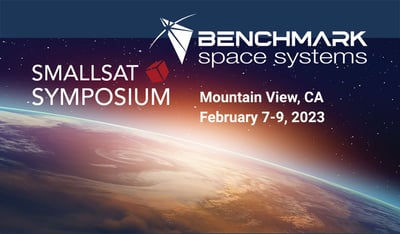 Come visit members of the Benchmark team and learn how we are able to rapidly reconfigure and bundle solutions to optimize for your mission, from cubesat to ESPA in LEO, GEO, and beyond.
The 2023 SmallSat Symposium brings together the leaders driving this change to identify critical trends and qualify disruptive technologies. An ideal environment for open communication, important networking and critical insight are hallmarks of this must-attend satellite industry event.

Three days spent at the SmallSat Symposium will build your understanding of the future of the industry and provide you important connections to suppliers, partners and customers.