Join Us at The CubeSat Developers Workshop 2022
Join Us at the Small Satellite Conference 2022
Meet members of the team in at Cal Poly April 26-28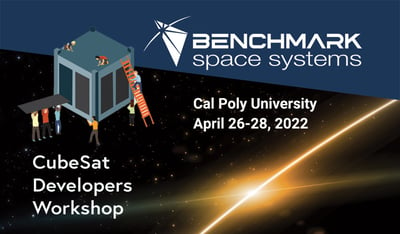 Come visit members of the Benchmark team at the CubeSat Developers Workshop April 26-28 at California Polytechnic State University in San Luis Obispo, CA.
Don't miss our presentation of "Development of a Microscale Heating Mechanism for a Small Satellite Resistojet Thruster" on April 28 at 10:15 am PST.
Attendees can also check out our Halcyon system on display at the Experior Laboratories Testing Zone.
Additional Workshop Information
‍
‍