"There's No Need To Be So Toxic!" Interview by The Downlink, A Defense & Aerospace Report Podcast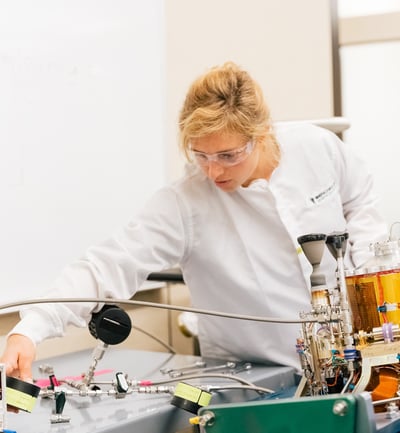 The Downlink, A Defense & Aerospace Report Podcast, interview with Benchmark's Sammy Graham and Chris Carella
Laura Winter of The Downlink, A Defense & Aerospace Report Podcast, interviewed Benchmark's Propellant Chemist/Propulsion Engineer Sammy Graham and EVP, Business Development & Strategy, Chris Carella for her episode "There's No Need To Be So Toxic!"

Sammy is a chemist and propulsion engineer with a degree in Chemistry & Physics from Cambridge and specialized in Propellant Chemistry at European Astrotech in the UK.
After years of experience with propellant R&D and traveling around the world to launch sites, she came to Benchmark because, "Green propellants are much, much nicer to work on, and the shift in the space industry is towards green propellants." Sammy discusses the dangers of working with hydrazine to the human body, the environment and more, plus greener alternatives like the HTP that Benchmark utilizes. Sammy touches on the chemistry of various propellants in this discussion.
Later in the episode Laura welcomed Chris Carella and Jeroen Wink, CRO & Co-Founder of Dawn Aerospace to discuss the business case for alternative propellants.

Chris points out the early signals for green propellant demand, beginning with Benchmark's Co-Founder Ryan McDevitt's early days working with NASA before there was a market it for it, plus the tremendous cost and overhead of working with hydrazine. The economics didn't make sense for the growing smallsat market on the commercial side, which continues to drive innovation. HTP is cost effective, available, non-toxic and delivers performance, including high specific impulse.
Listen to the episode on these popular platforms:

Apple Podcasts
Or directly from The Downlink website: