The Women of Benchmark

In March 2022 we shared a post highlighting the challenges women face in STEM education and moving into STEM careers. We had five fierce women on our team at the time. A year later we've doubled our numbers and continue to grow and support the women on our team.
As we close out Women's History Month, we are proud to feature our female team members, as they reflect on their path to a career in space.
Benchmark continually looks to grow the number of qualified women on our team, as well as expand their opportunities and support their goals. To apply for open positions, please visit our Careers page.
Brittany, Human Resources Director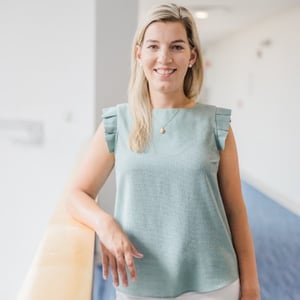 Before Benchmark I was consulting for many different companies and was truly inspired by an aerospace company, where I helped support their HR initiatives. The employees there were some of the smartest individuals I had ever met. They were so passionate about the work they were doing, worked extremely hard and the company had an amazing mission. I was equally inspired when I read about and interviewed at Benchmark. When I was ready to leave the consulting world, I knew Benchmark would be a great fit. The company's mission, work ethic, culture, passion and dedication of the team really inspired me, and having a CEO who cares so much about the people who work there solidified that it was the right place for me.

While HR may seem like a very tactical or administrative position to some, I have always felt that HR is the unsung hero at a company. Human Resources has the unique ability to directly impact a company's bottom line because ultimately the people are the most important asset and what makes a company truly successful. I am honored and proud to work for Benchmark Space Systems and look forward to what is to come.

Emily, Talent Acquisition and HR Coordinator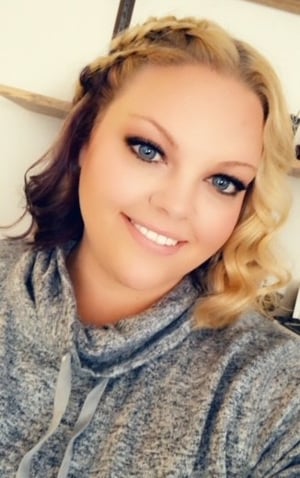 After having many years in retail management and wearing many different hats in my previous roles, I came to the realization that I am passionate about the employee experience and what better way to impact that than with a Human Resources role. I came across Benchmark Space Systems and as soon as I started learning more about the company, I knew it was a place that valued its team and is such an asset to Vermont's small business community. I was so excited for the opportunity to join as the Talent Acquisition & HR Coordinator. I believe Benchmark is a model of what all employers should be like. Everyone on the Benchmark team is so passionate about their work and the collaboration throughout the teams is fluid.
Jackie, Mechanical Design Engineer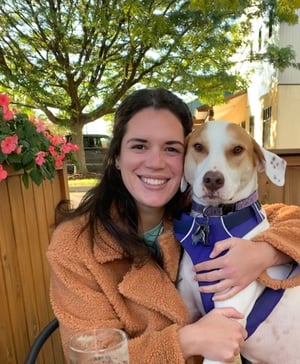 When people think of start-ups, Vermont is most likely not the first state that comes to mind, but it turns out there are many hidden gems! Being originally from the area, and only a few years post grad, I was excited to see new companies emerge, and Benchmark particularly piqued my interest! I had been working at a local company in Vermont as a mechanical design engineer since graduating from college and was fortunate to have the opportunity to work with so many highly trained engineers. I was able to take many of those skills to my new job at Benchmark, while continuing to grow and meet challenges with a team that made me feel welcomed and appreciated. It's empowering to collaborate with others who are equally passionate about what they do and are focused on achieving common goals. I'm proud to be part of a growing team that has achieved so much in a short amount of time and has an even brighter future ahead!
Jaclyn, Program Manager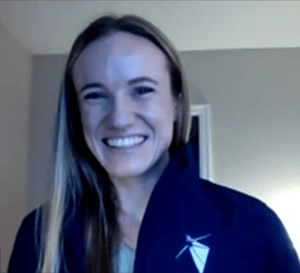 I remember one day after school my dad, an airline pilot, drew a force diagram on the kitchen whiteboard trying to teach me how planes can fly. That was the start of my interest in engineering. I went on to get my bachelor's and master's in mechanical engineering because of my love of math and physics. I am so glad my career took me to BSS. My favorite part of being a program manager here is that I get to work with incredibly smart and talented people from every discipline. One of the first things I noticed working here was how every single person is so motivated. It's wonderful to be a part of this team.

Kristen, Executive Assistant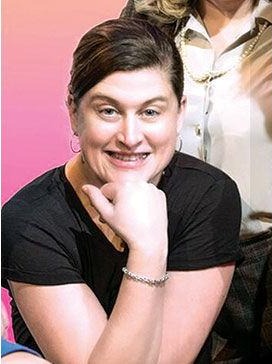 My journey to employment with Benchmark was less than traditional. It's not common for startups to advertise for an Executive Assistant with a background in opera performance, culinary arts, financial management, and federal judicial administration. Benchmark was no exception. However, Ryan cuts through the noise and matches requirements with resources. He appreciates the breadth of my experience and believes in the value I add as I support Benchmark's mission, even if I am not a rocket scientist.
Laura, Marketing Manager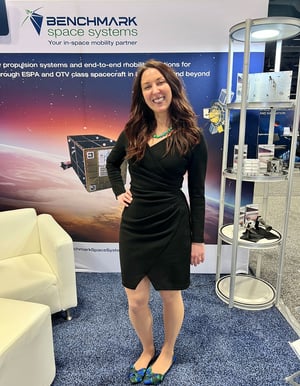 As a marketing professional, I can't think of many industries where the messaging is more critical than space. We are at the dawn of space revolution. I look around the room at my brilliant colleagues at Benchmark and I am in awe of what we are conceptualizing and producing, of the preciousness of space as a resource and our responsibility to lay the groundwork for a sustainable ecosystem now.
I am grateful to bring in experiences and perspectives from a variety of industries in my career, including organic apparel, leisure travel, higher education, management consulting and functional beverages. I feel close to the women of Benchmark and we've become a supportive community that meets regularly to check in on our personal well-being and career goals.

Myk, Test Engineer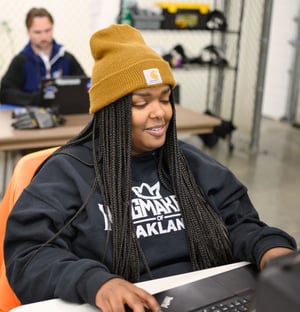 I have had a passion for spaceflight since an early age. After years of deconstructing and reconstructing each and every toy I could get my hands on, I realized my real interest laid in the designing of aircraft and propulsion systems. Directly out of college, Benchmark gave me a huge opportunity to combine my passion for hands-on teamwork with my curiosity of in-space mobility innovations in a welcoming and open environment. I am repeatedly encouraged and supported by my superiors to lead teams head on into challenges, and I'm given the autonomy over such effort with the mutual understanding that we are all working toward the same goals. The culture and work ethic at Benchmark both align with the CEO's mission and morals, making it even easier to work with such an amazing team of extremely experienced dedicated folks. I feel so lucky to work so closely with individuals who have been involved in some of the most objectively innovative space programs nationwide, and I hope to one day say the same of my work here.
Olivia, Chemist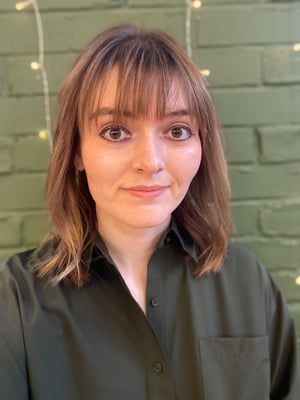 As a young girl, I was constantly watching episodes of "Lost in Space" with my dad or going to STEM Girl Scout events with my mom. This early on prompted an interest in science, which eventually evolved itself into wanting to become a chemist. Chemistry has always spoke to me because it has a hand in almost every aspect of our lives, from why fireworks are certain colors to how rocket fuel is made. Benchmark has allowed me the opportunity to combine my love of chemistry with my passion for space exploration in an environment scientific creativity is not only needed, but encouraged, every day. I feel incredibly lucky to get to work with the amazing women of Benchmark and to get to learn from all that they have to share!

Rachel, Embedded Software Engineer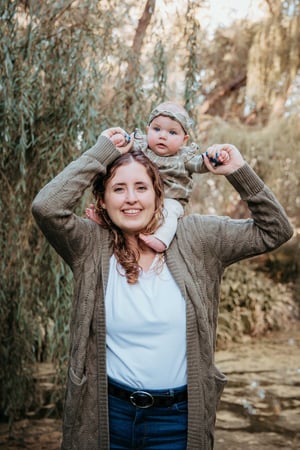 I became an engineer because I love being creative and solving problems. Growing up I loved making things from my brain into reality, from making jewelry to house repairs to writing stories to competitive robotics. Today I work as a software engineer programming avionics for space mobility. I am grateful for Benchmark Space System's work culture. As a mom, flexibility and the ability to work remotely is invaluable. As a woman in engineering, I have always felt respected, included, and valued. As an engineer, I love never being bored and overcoming technical challenges to produce systems I can be proud of.
Sammy, Propellant Chemistry/Propulsion Engineer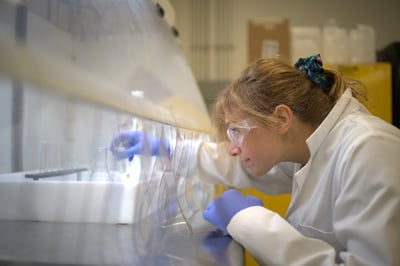 Most kids have an innate interest in space exploration but sadly this curiosity tends to fade when they become teenagers. As I grew up, my interest in space enhanced and influenced a lot of my educational and recreational decisions. I entered the space industry as a propellant chemist and propulsion engineer in 2013. After 7 years of working in the European space sector, I discovered Benchmark Space Systems, a hidden propulsion gem nestled in the green mountains of Vermont. It has been an honour to be part of Benchmark's journey from small start-up to a flourishing, international leader in green propulsion technologies. When I come to work, I feel a tangible force which drives and unites this amazing team. Everyone here is dedicated to Benchmark's mission to make space safer and more accessible to anyone who needs to move around in it!